COMEDY LAND's Bababooey Image Gallery
You're just a click away from the most hilarious Bababooey images ever. See Bababooey in poses and situations no supermodel would ever be in. They lack the teeth, lips, hairy ass, and greasy mustache that only Bababooey possesses.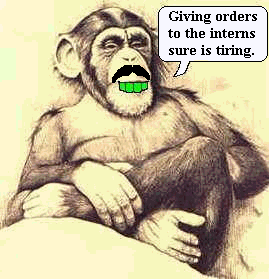 Bababooey Hard At Work.
---

If you were disappointed by the final episode of SEINFELD, read "my" script!
---
AT LAST! THE WAIT IS OVER!
THE SIMPSONS MEET O.J.!
Part 1
Part 2

Part 3



Bookmark This Site and check every week for new material. I will not rest until I bring the gift of laughter to everyone in the world... or at least the people with computers. I don't care about those primitive places without computers... or fire.
- Stephen King-Of-Comedy
Get Sponsored
If you're having a problem with the ListBot link, join by
sending your email address to: comedyland@bigfoot.com